FlexiLogics FL100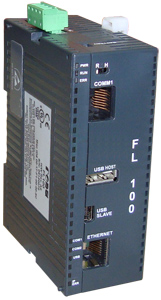 The FlexiLogics FL 100 from Renu is a premium programmable logic controller that is easy to program, and offers a built in web server.
Features:
DIN rail/ back panel mounted compact.
2 serial ports, 1 USB device port, 1 USB host port, and an Ethernet port.
The ability to program and monitor over Ethernet or USB device port.
Expandable up to 16 expansions.
32 Bit RISC processor – 22 nS per contact processing speed.
Can be configured as Modbus RTU Master or Slave for strong communication capability.
20 MB of memory for logic control, web pages, and internal data logging
Supports all of Renu's serial and Ethernet HMI drivers
---

FlexiLogics® FL005
Renu FlexiLogics FL5 PLCs are powerful, compact and low cost.
Features: 
DIN rail / Back panel mounted slim PLC
Transistor or relay outputs
Built-in real time clock
200 Khz High Speed Counters (2)
Add up to 16 expansion modules (288 digital IO)
High speed PWM output (100 KHz)
Up to 2 Serial Ports with support for various PLC protocols
Program in any IEC61131-3 programming language
CE, UL Class1 Div2 listed, Nema 4/4X
Header FL5 with Fixed IO
Header FL5 Expandable Versions